Filming in the Lairig Ghru
Our second trip to Ben MacDhui took place around 21st March. Six of us hiked in through the Chalamain gap in spring snow.
There was a category 4 avalanche warning in place, and it looked windy on the tops, so we elected to head for Corrour Bothy again, this time through the great mountain pass of the Lairig Ghru.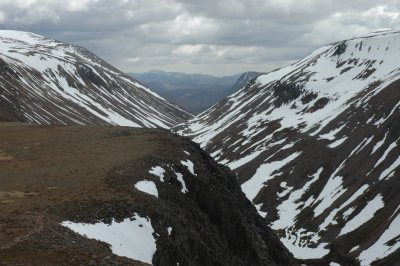 Deep snow and mist high up in the pass. The Pools of Dee were icy and ethereal. The descent and hike on through the valley, under Ben MacDhui towards Corrour was a hard hike with heavy packs through knee deep snow.
It was even harder back through the Lairig Ghru the next day, but we were rewarded with clearing skies and views of the crags.