About the Film
In 2005, a team of hill-walking associates from
scottishhills.com
decided to make a film.
Inspired by pieces like Bothy at the
Edinburgh Mountain Film Festival
that year, the initial idea was to try and make something that combined a shared appreciation of Scottish mountain scenery, with an excuse to get out more over the winter of 2005/2006.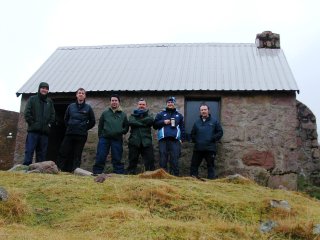 The Cairngorm mountains and the related
legend of the Big Grey Man of Ben MacDhui
were swiftly lit upon as likely themes, and a series of short winter and spring outings were planned. Research was undertaken to find interviewees who might have either heard, seen or felt a mysterious and frightening prescence on the Cairngorm plateau.
The film team spent a long dark winter solstice at Corrour, and returned to walk the Lairig Ghru in spring snow. A further short expedition overnighted on the summit of Ben MacDhui in search of the mysterious Big Grey Man.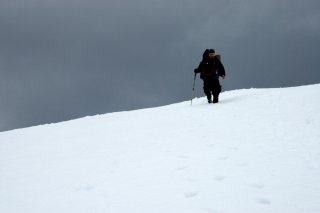 Further trips were made to speak with local figures from Aviemore and Braemar, and the resulting documentary film explores with them legend, the evidence and possible explanations for the strange presence said to stalk the slopes of Ben MacDhui.