Edinburgh Mountain Film Festival
We are delighted to learn that
The Big Grey Man of Ben MacDhui
made it into the lineup at the
Edinburgh Mountain Film Festival
2006.
The festival was a great success. It was fantastic to see Big Grey Man of Ben MacDhui on the big screen along with all the other films in a packed and exciting programme.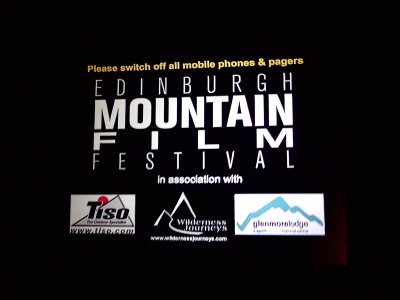 We were on in the Saturday morning slot, following Jamie Andrew and friends' very moving film about their ascent of Kilamanjaro. I think everyone who saw it was inspired by their stories, and it was certainly a hard act to follow.
Also in the morning session was 'Fisherfield', the second film from the folk who bought us 'Bothy' at the 2005 Edinbnurgh Mountain Film Festival, and inspired us to have a go at making a film.
At the 2006 awards E11 cleaned up, the film about Dumbarton Rock from
Hot Aches
went down a storm.
A really good film festival to have been a small part of, we enjoyed ourselves immensely.